A Large Chocolate Manufacturer had a problem with bottlenecks in production, and the amount of time it takes to empty their conches through the existing pipe system to the holding tanks.
After our site visit, two main limiting factors were identified and reported to our customer engineers:
The length of the pipe system and the viscosity of the product were a cause for high system pressure losses. At the flowrates the chocolate manufacturer required to avoid bottlenecks, the system pressures would exceed the limit of the existing Rotan Pumps.
The existing pumps (Rotan) are limited to a maximum of 6 Bar discharge pressure, over which the chocolate starts to separate & degrade. This is an issue with any gear and rotary lobe pumps and is caused by back-filtering of the product slip within the pump as rotors deflect under pressure.
The proposal 
A few proposals were put forward to our customer, with budget costs for each option.
To get the desired increase in flowrates, AND, stay within the factory standard chocolate pump (Rotan), the site would require an upgrade of the pipe system from 4" to 6" diameter.  Therefore, the customer would require a new pigging system, with 3 way piggable valves and larger Rotan Pumps. The  estimated cost would be approx. £500,000 to £750,000.
The second option would allow an increase of capacity by around 40-60% , the customer would have to replace the 12 number conche pumps with a different make/design. The Twin Screw was recommended, as it can pump chocolate without degradation, but at higher pressures than the Rotan. Thereby achieving higher flowrates in the existing pipe system. The estimated cost for this option was £15,000 per pump.
The Solution
The introduction of the Versaline Twin Screw pumps made the most sense, however, the conche pumps are critical to production – therefore the change in pump type is not to be undertaken without a full appraisal and risk analysis.
We knew they would really benefit from this; we were able to give them a long-term trial on a sale or return basis to allow our customer engineers to fully evaluate this option in a production environment with minimal risk.
After a 2-month trail with the new pump, our customer confirmed they are emptying the conche in half the time using the Twin Screw pump – effectively enabling them to double production.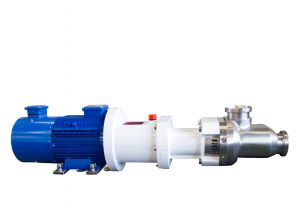 We supply hygienic process equipment from Fittings, Tube, Manways, Pumps, Mixers to CIP Skid Units, Pigging Systems as well as product service and repair.