The Versaline Centrifugal pump is the latest addition to the HpE Versaline Range. It is the perfect solution for low viscosity material in the Dairy, Beer, Beverage, Pharmaceutical and Chemical Industries.
The centrifugal pump features single stage, single suction, and open-style impeller. It is well designed to reduce resistance, eliminate dead space and quicken the flow in the pump, thus improving its overall performance.
The Open -style impeller ensures the best cleanability and outstanding Sanitary performance.
The Versaline Centrifugal pump has other advantages such as stability, high efficiency, and easy maintenance. Furthermore, Adjustable supporting legs, any angle that the outlet can be positioned, all these provide the convenience of installation and operation.
The HpE Versaline centrifugal pump adopts a mechanical seal that provides the advantages of good sealing performance, self-lubricity, resistance to wear, high temperature and corrosion; leakage free, easy installation and disassembly. Both single and double end face mechanical seals are available and both with Water Flush. The mechanical seals are easy to replace and maintain, cost-effective and interchangeable to prolong the service life of the pump.
The Versaline Centrifugal Pump is also available on a trolley, for more information contact our experienced team.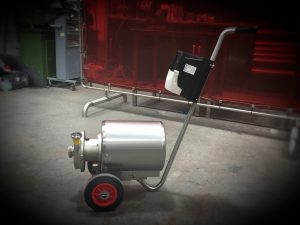 Evoguard Centrifugal Pump H1CP – Single Stage, Non Self-Priming
Easy and fast cleaning
High surface quality due to parts made of solid material
Robust mechanical shaft seal according to EHEDG guidelines, modular and simple design
Energy saving because of high efficiency
Easy and fast maintenance
Sealing failure fast to detect
Evoguard Centrifugal Pump HSCP – Single Stage, Self-Priming
Fastest venting of pipelines
Same parts and spare parts as H1CP
Easy and fast cleaning
Low noise level
Energy saving because of high efficiency
Smooth surfaces, high pressure resistance
Easy and fast maintenance
Sealing failure fast to detect
Evoguard Centrifugal Pump HMCP – Multi Stage, Non Self-Priming
Available with 2 up to 5 impeller stages
Design according to the latest EHEDG guidelines
Optimized hydraulic system due to CFD calculation
Low-noise and high efficiency
No enclosed room or parts, fast detection of sealing failure
Identical mechanical shaft seal as from the H1CP
Manufactured to the latest production processes, no castings in the product-room
The centrifugal pump is in many ways the "backbone" of any liquids processing industry. In the food, beverage and pharmaceutical industries, the particular requirements for hygiene, reliability and efficiency mean that the KPA range is without doubt the best option available.
This ultra-clean, popular pump has numerous benefits and it offers exceptional value for money. It is most commonly seen in breweries and dairy, pharmaceutical, and soft drinks industries where it is well up to dealing with high flow rates of low viscosity liquids such as water, beer, and milk while being easy to clean and maintain.
It is EHEDG approved, uses IE3 high-efficiency motors and is electro-polished as standard.
Among its many features and options it has:
Optional construction in higher (1.4435, 1.4581) grades of steel which render it suitable for the pharmaceutical and higher spec food industries where high levels of chloride ions are present
Optional Low delta ferrite, delta ferrite testing & certification
A one-size-fits-all 25mm DIN standard mechanical seal, reducing spares requirements and making replacement easier
An optional integral casing drain
An inducer for low NPSH installations, such as wort transfer, hot WFI, and evaporator discharge
Optional integral frequency inverter for efficient speed control
HpE KPA S Type Liquid Ring Pump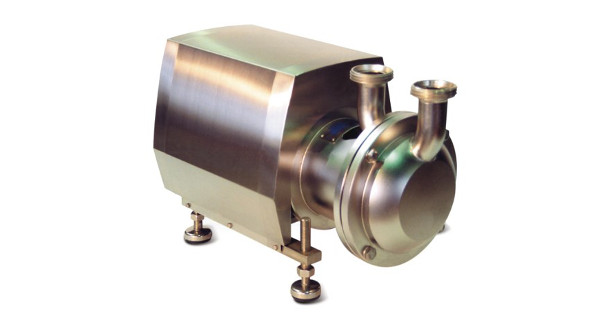 For tank cleaning machines and sprayballs to work effectively cleaning liquids should not be allowed to build up in the vessel, which means these liquids must be pumped out at least as fast as they are pumped in. This is very difficult to achieve, so the general rule of thumb is to size the return pump for a flow rate of approximately 5-10 percent more than the feed pump. This is a problem for centrifugal pumps which airlock, causing the flow to stop while the liquid builds up inside the vessel.
Self-priming centrifugal pumps work reasonably well and we supply a hygienic self-priming centrifugal pump in the KPA range, however, they struggle on installations with multiple tanks.
The liquid ring pump was originally designed as a vacuum pump and that principle has been applied in the S type scavenge pump to make it the best CIP scavenge pump available. Its ability to handle air/gas mixtures, generate a good vacuum and keep those vessels clean is why it is so widely used throughout the food industry.
It is this feature which renders the Liquid Ring extremely efficient in CIP scavenge applications, such as the cleaning of tanks and vessels.
The Liquid Ring is employed anywhere that has CIP for tanks & vessels, but can also perform the following tasks:
In breweries, it pumps liquid yeast and is involved in yeast transfer
In dairies, as well as milk tanker offloading the Liquid Ring strains whey from cheese and can pump shear sensitive products such as liquid eggs and cream
Like all KPA pumps the Liquid Ring is also:
User-friendly and low maintenance
Test-run prior to shipment
Benefits from 24 months' warranty
Electro-polished CrNiMo forged and sheet metal according to AISI 316L, perfect cleanability, and high corrosion resistance