This high performance, positive displacement pump is a bit of a smooth operator. With its signature smooth and quiet operation, its optimal efficiency rotors push the products through from one end of the pump to the other and when the pressure gets too much, the seriously oversized shafts help to prevent the damage that other lesser pumps suffer.
The Rotary Lobe pump is used in breweries (yeast), the dairy industry (cream, yogurt, cottage cheese), confectionary (caramel, toffee, fondant cream), in the soft drinks industry for the likes of syrup and concentrates, in the pharmaceutical industry on creams & ointments, in household & personal care for washing liquids, toothpaste, deodorants, shampoo & soap.
Unibloc is available in a number of specialised variants –
Meat Pumps transfer raw meat and is fitted with special rotors allowing quick and easy replacement.
Road tanker Pump – lightest in class and available with either bare-shaft or Hydraulic motor
Chocolate pumps – heated rotor case and front cover, these pumps have tried and tested shaft seals for this difficult product
Fryer Pumps – designed to move hot oil from fryers, this version features hard faced seals with Kalrez O rings, special bearings and clearances
The Unibloc rotary lobe pump head has been cited as the cleanest in the industry with its seamless design and porosity free guarantee as standard features on Unibloc.
Other features are as follows:
The rotors can be supplied in non-galling alloy where pressure spikes might cause a lesser pump to seize, or in plastic which is cost-effective option for the meat processing industry where bits of bone cause frequent chaos
Oversized shafts which resist pressure are the backbone to the pump's performance
The pump head interior and front cover have no pockets or crevices for products to become trapped, resulting in a fully CIP/SIP able design
Unibloc offer a wider range of shaft sealing options than ANY other lobe pump manufacturer
For the pharmaceutical industry the pumps are available in a range of alloys, such as duplex or hastelloy and on much shorter delivery times than others
The gearbox is the toughest precision built in the industry in aircraft grade aluminium alloy or stainless steel
The Unibloc is available in a "Compac" design that bolts directly to a motor or gearbox flange reducing time spent in aligning different components on a baseplate
Safe design with no accessible moving parts
Our "Labtop" variants are a self contained laboratory pump that can be used in R&D facilities to test production techniques & processes. Full scale plant can use the larger Unibloc model without the need to re-validate processes.
It is no surprise that the world's largest food machinery OEM companies use Unibloc pumps on their machines.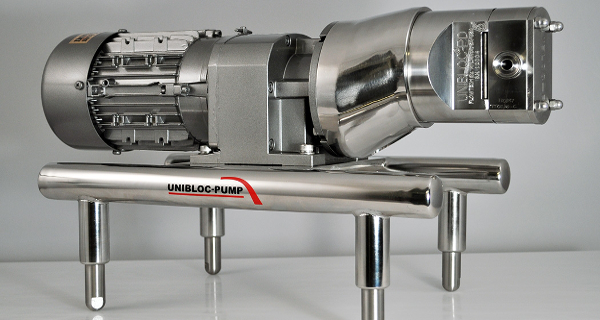 The CompacTM series of coupled pump solutions. From the unique and straigh-forward design of the Compact Direct, to the unmatched versatility if the Compac Flex, the Compac series offers a complete line of sanitary lobe and gear pumps for a wide range of industries and applications.
Compac design
Horizontal or Vertical mounting versatility
Eliminates pump & motor alignment issues
Safe design with no accessible moving parts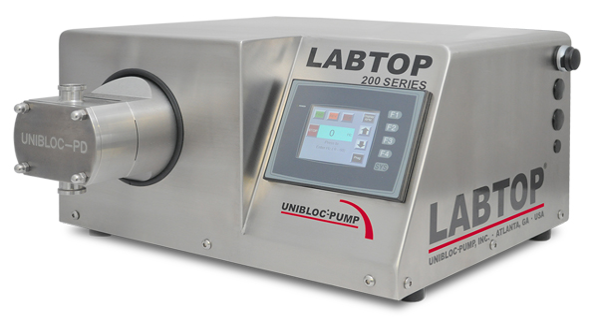 The "plug and go" design of the Labtop has made it the top-selling complete pumping solution for years in the biotechnology and pharmaceutical industries. The simple and versatile design consists of a pump, motor, and controller enclosed in a stainless steel case. It is used for small to medium-sized capacity applications.
So what else is good about the Labtop?
It handles shear, sensitive products very well
It is lightweight and compact
It can run dry for a short period of time
There are no rubber hoses with potential to rupture
No shredding of rubber from inside hose
Operates equally well in both directions
At its heart, the Unibloc rotary lobe pump is manufactured from the highest quality stainless steel material
Easier maintenance
Good product for laboratory and R&D – the same pump type can be used in R&D then scaled up for full production without the need to re-validate the process