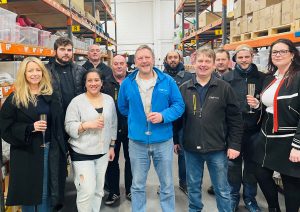 Morley based HpE Process Limited has become the latest company to join the rapidly growing number of companies across the UK owned by its employees.
Founded by Andy Allman in the 1990's, HpE Process has never lost sight of its original ambition to supply cost-effective and high-quality hygienic process equipment, using their expertise to pioneer bespoke and innovative designs which future proof the systems they are used in.
Thanks to the experience & creativity of their team they have been at the heart of food processing & automation for over 30 years ensuring this key sector of the economy can supply safe, healthy, delicious and affordable foods. With a unique understanding of the demands facing manufacturers HpE Process create safe, reliable, commercially effective and sustainable solutions that deliver a fast payback.
The company's 10 employees now own 100% of the company via an Employee Ownership Trust. Allman's decision to move to an employee ownership structure came about after he started considering his succession options and had spoken with some of the growing number of former business owners who have chosen employee ownership as their exit route
Speaking following the move, Allman said "The idea of selling the business to someone else was always a reason why I put off looking at succession. Thankfully employee ownership means that HpE Process will be able to operate long into the future as an independent company. Allman added "Employee ownership ticked all of the right boxes for me and the Company. It presented an opportunity to allow me to exit the business without needing to sell to a competitor, without disrupting the business, our customers or suppliers. We have a highly trained team, many of whom have worked here for 20+ years, and employee ownership will ensure that they have control of their future".
Allman is remaining involved in the business as a consultant, but control has been passed to Khawar Aziz and Sue Bose, who have worked for HpE Process for the past 20 years. Aziz said of the move to employee ownership "all of us are genuinely enthused by the fact that we have been able to transfer ownership without needing to sell HpE Process to another company and risk destroying what has been built up over the years. In the current climate, all employees are looking for some comfort around job security. What better way to do this than with all of us as owners?". Bose added "we have a world-class reputation for making high-quality British made products and our customers now know that every time they place an order with us an owner of the business is looking after them".
Khawar Aziz and Sue Bose
HpE Process was advised by Andrew Harrison of employee ownership specialists Co-ownership Solutions LLP. Harrison said of employee ownership "employee led businesses are more flexible and their employees united in a form of common purpose and shared responsibility. Evidence shows that this makes them more resilient, entrepreneurial and adaptable to future challenges".