We understand there is an acute shortage of skilled engineers within the industry and whilst young people may be applying for roles, the truth is, applicants simply do not have the relevant skills and experience. Universities and Students are recognising there are many benefits to vocational learning and work placements with more students studying sandwich courses.
In a bid to support future engineers we have been working closely with local Universities to find a suitable student who could carry out their work placement in Leeds. Samad Rahis has joined us as an Applications and Projects Engineer who is studying Mechanical Engineering BEng (Hons) at the University of Huddersfield. Samad wants to gain valuable work experience within his desired field, as well as developing his personal and professional skills to improve his employability chances post-graduation.
Samad has only been with the company a few weeks and is already proving he is a versatile engineer who fits in well with the team. His enthusiasm to learn, asking the right questions, and applying academic theory reinforces a bright future.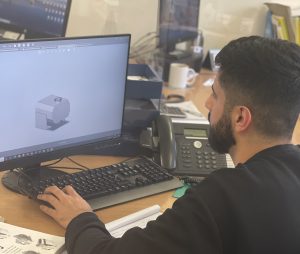 We look forward to seeing what the year will unfold and are pleased to be contributing to the growth of a future engineer.