At last a true hygienic basket strainer. All current designs on the UK market require operators to drain the strainer before removing the basket, or worse, allow all the filtered particles to drop back into the pipeline!
With the new AB6 strainer, the solids collect in the basket which can be removed without the need to drain down the line or strainer body.
Available with a wide range of basket types (woven mesh, perforated tube, or wedge wire) and in a range of mesh sizes, the image shows a version fitted with an optional heating jacket.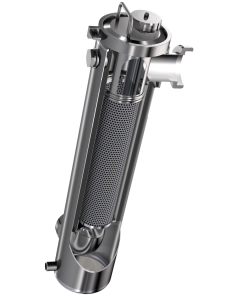 For more information contact the sales office on +44 (0)113 252 6712