HpE Process have gone bigger for 2020, to introduce the latest hygiene solutions for the food and beverage industry.
The Wangen Vario Twin demo unit will be on their stand E171. It's the ideal feeder unit to pump highly viscous product. This is due to the forced conveying of the pumped media via the feed screw.
Flowrates up to 10m3/h
Temperatures up to +90ᴼC
Viscosity up to 3.000.000 mPas
The Vario twin is suitable for pumping the following media:
High viscosity dough in the baking industry, fruit such as strawberries including frozen fruit, vegetables and much more.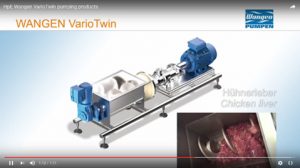 HpE Process, the sole UK distributor for Evoguard will be showcasing a range of valves and pumps. Evoguard is at the forefront of providing Krones technology to the industry, the Evoguard centrifugal pump has flow rates up to 100m3/h.
The centrifugal also has intelligent seal monitoring which permits logging of critical data such as dry running and cavitation, for more information on this email sales@hpeprocess.com or visit stand E171 at Foodex, NEC.
The Mixproof Valve is used for mixproof separation of incompatible media. The valves have pressure resistance, a change-over can take place without leakage and easy cleaning of the leakage chamber.  It is available in 3 variants, Double seat tank outlet valve, Double seat divert valve and Mixproof piggable valve.
The mixproof valves have numerous benefits, the actuator: maintenance-free with fast lifting time which in turn has less air consumption. The new sealing system uses state-of-the-art seal material and improves the seal lifetime by optimising resistance to rip-out the fluid behind. Easy assembly 'mix-up' is impossible and comes with EHEDG certification. Other products include the Aseptic range, Vacuum valve and much more.
To provide a complete package to the industry HpE offer integrated solutions, this includes CIP Skid Units, Pigging Systems and Mixer Skids. Supported by the experience and knowledge from the team they evaluate the whole process for your site and ensure the right components are used to aid Return on Investment.
To keep up to date with product news and Foodex updates you can follow them on social media.