All Purpose Brewery (APB) Pump
Designed to handle any liquid product (spent grain, trub, yeast, wort, beer & CIP) transfer application in any brewery.
The key benefits are to provide a high suction capability for handling heavy adjuncts, yeast waste and spent grain. The pump offers particularly low shear transfer of sensitive yeast, has the ability to handle CIP scavenge without air-locking and low NPSH requirements, allowing easy transfer of hot wort without cavitation. It is fully hygienic & EHEDG compliant.
The APB pump is supplied as standard with IP55 & control panel, speed control and a 4-wheeled trolley. Options include integral fully hygienic pressure relief valve, seal flushing put (for dry running & hot wort transfer), flowmeters, pressure gauges, pump protection strainers & hoses.
The Versatwin is EHEDG compliant and is a competitively priced single pump,  that can combine the roles of a rotary lobe pump for product and a centrifugal for CIP feed or return.
The Versatwin is gentle on the product and imparts much less shear than rotary lobe pumps. It is perfect for use in the food and drinks industry and has proved itself on products such as juice concentrate, mayonnaise, butter and spreads, peanut butter, chocolate, fondant cream, soups and sauces, biotech cell cultures, pharmaceutical creams and toothpaste.
The pump deals with a range of products, from chunky vegetables to cheese and yogurts to more viscous sauces.
For products such as soups where solids are suspended in a low viscosity media, the Twin Screw really excels. Customers have found that their traditional choice of a circumferential piston pump wears rapidly and is difficult to clean, whereas the twin screw performs effortlessly, without damage to the product or wear to the pump and cleaning times are much reduced.
Flowrates can be varied easily, from slow speeds for product transfer up to 4000 rpm for CIP feed and scavenge (comparable to the lobe's 700 or 800 rpm max).
It is easily cleaned – crucial in the food industry, being described by various users and consultants as "the cleanest pump we have ever seen".
Other benefits of the twin screw include:
Single pump is space-saving
very low shear to product
low NSPH (Nett Positive Suction Head) requirement. The product feeds into the pump without any change of direction, whereas in a lobe pump the product is split and turned through 90 degrees before reaching the pressure side
up to 30 mm solids handling
self priming and capable of handling up to 60% air / liquid mix
optional VarioTwin screw feeder
dry run compatible due to contact-free operation of the feed screws and a flushed/barrier mechanical seal
optional heating jacket
Managing Director of HpE Process Ltd Andy Allman said: "The twin screw is gradually gaining acceptance, particularly in the soft drinks industry where it is so good at moving the juice concentrates".
HpE Wangen VarioTwin pump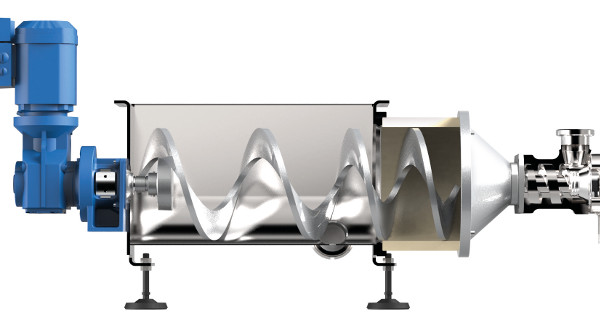 Just launched this year, the VarioTwin is the ideal add-on feeder unit to the VersaTwin pump. Its role is to move thicker consistency products that don't flow under their own weight into a twin screw pump. Such products include dough, peanut butter, fruit (including frozen), meat-based products, vegetables, sugar mixtures such as liquorice and chemicals.
The higher viscosity products are carried gently from the hopper, through a feed screw and in to the main pump.
Its main features are:
A 'coreless screw' for the gentle treatment of products
Fully hygienic and open design which enables easy and efficient cleaning
Cantilevered support system of the screw for maximum hygiene with minimal residues
Space-saving due to compact design
Drive is controlled independently of pump speed for optimum efficiency and reduced shear
Low energy consumption due to energy-efficient screw geometry
Ability to feed shear-sensitive materials
Materials are FDA-compliant, product-contacting parts in 1.4571/1.4404
HpE Wangen Progressing Cavity Pumps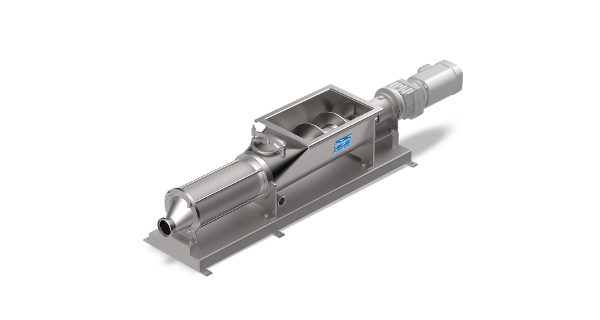 Wangen boasts an extensive range of industrial, sanitary and hygienic progressing cavity pumps. The pumps are involved in a number of industries from waste transfer and bio-digesters to cosmetics and food (dairy and pet food). They can do flowrates up to 260m3/hr and pressures up to 48 bar. Hygienic Variants have EHEDG approval.
Hygienic progressing cavity pumps have been developed specially for the food industry and feature the following qualities:
Electro-polished high grade stainless steel
The most gentle pumping action of any pump design
Gap and crevice-free design
Minimal maintenance
Wangen's unique stator / rotor geometry ensures that the stators last longer than other similar pumps
Wangen can engineer a solution to most pump problems and have the experience and expertise to create unique products. One such pump was made for a customer who wanted to re-process blocks of fat, without have to melt & re-crystallise. Wangen made a block breaker, with a screw feeder that moved the plasticised fat into an Eccentric Screw pump which then pumped it to a moulding line.
The system was built to the highest safety standards and featured in-built CIP so that it could be cleaned without operators having to strip the machine down. That customer reported a six month pay back on their investment.
Managing Director of HpE Process Ltd Andy Allman said a unique characteristic of the Wangen eccentric screw pump was its class leading level of hygienic design. Wangen always consider the requirement to clean food machinery when they design something new.