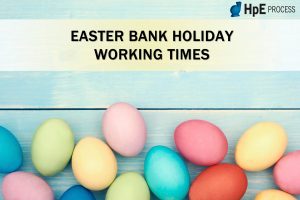 Would all our customers please note our opening times and delivery schedules over the bank holiday period.
Last despatch date:
UK shipments – Thursday 29th March.
International shipments – please contact sales/shipping to make arrangements for final shipments.
Office holiday closure:
Close at 5pm on Thursday 29th March.
Re-open Tuesday 3rd April.
Next despatch date:
Tuesday 3rd April 2018.
For out of hours support please contact:
Mike Atkinson – +44 (0)7957 846 123
Andy Read – +44 (0)7762 663 929
Mick Hodgson – +44 (0)7739 677 760
Happy Easter from HpE Process.