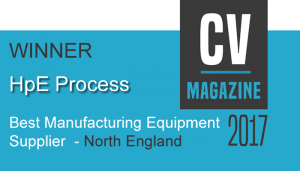 Corporate Vision Magazine has announced the winners of the 2017 Business Innovator Awards. HpE Process have been awarded the Best manufacturing equipment supplier for North England.
The 2017 Business Innovator Awards have been designed to celebrate the trailblazers of the corporate sphere, striving ahead of their competitors to achieve remarkable results. These awards pay homage to the commitment, determination, and skill that has been displayed by the game-changers of a variety of industries.
Edward Kemplen, Awards Co-ordinator, discusses the awards: "Businesses around the world have shown innovation and determination in order to overcome a myriad of challenges over the past 12 months. As such, I would like to congratulate my winners and wish them the best of luck going forward."
Our winners are decided by a combination of votes gathered from our network of respected industry partners and our own rigorous in-house research, performed by our dedicated network of industry insiders and corporate specialists.
Each award is carefully scrutinised, from a nominee's region to their performance over the past 12 months, their commitment to innovation, their methods and even their competition to ensure that only the most deserving firms walk away with one of the prestigious trophies.