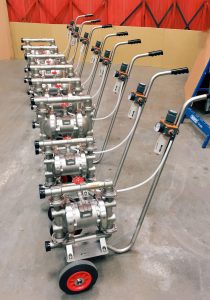 We have 8 #Graco Saniforce Hygienic Diaphragm pumps on stainless steel Trolleys with filter/regulators out for delivery today.
From the initial customer call, our engineers were on site within 12 hours and process requirements/cleaning regimes were agreed. The customer had a quote on his desk within 48 hours.
Working on meat & vegetable Ragu sauces with soft solids up to 20mm, the process required pumps to be easy to clean, able to handle large solids without damage and to self-prime on a suction lift – The Graco Saniforce, chosen from our extensive range of Hygienic Process Pumps was the best solution.
The customer also needed a quick turn around on the pumps in order to meet the scheduled production start date.
The pumps were delivered 7 days ahead of schedule.
For more information on our pumps range please call the office on +44(0)113 252 6712.